Does this ring true for you?
You have been achieving a lot in your career, taking on new roles and responsibilities and enjoying your job for several years now.
Taking pride in a job well done and the comfort of teamwork. A valuable team member, appreciated by all your colleagues. Considered to be promotion worthy by the management…
You are normally undaunted by new experiences and tend to rise to challenges with enthusiasm, until recently.
You have been feeling anxious and unhappy more often. What had previously been satisfying work has lost its shine.
Your interest in new roles is at an all-time low. You have experienced intense pressure and even some traumatic situations which are playing on your mind and emotions.
You keep wondering what you could do to get back your joy of work, and you worry that the quality of your work is suffering.
read more
Welcome to Transformational Breath®
a simple, safe, self-empowering healing system which is a dynamic process using conscious, connected breathing to enhance all aspects of your life.
The primary access to your life-force is through your breath. Many of us are only using 30% of our lung capacity due to illness, disability, sedentary jobs and lack of motivation. Consciously increasing our lung capacity changes everything.
The benefits can be felt on all levels of your being.
The benefits of
Transformational breath®

Physically:
increased Oxygen intake for energy and stamina
improved digestion and circulation
release of muscle tension
deep relaxation and better sleep

Mentally:
clear and creative thinking
better memory and concentration
positive attitude to life
having present moment awareness

Emotionally:
higher motivation and confidence
feeling happy and healthy
finding peace and tranquillity
connecting to love and gratitude

Spiritually:
realising your purpose in life
having blissful experiences
awareness of universal energy
deepening meditation
Training with me
I provide:
Breathwork for personal growth through individual sessions.

Introductory Transformational Breath® small group workshops.

Breathwork for corporate wellness programs.

Residential retreat style training programs.

Professional Transformational Breath® facilitator training to Level 3.
Why TRy It ?
On paper everything is going well…
…but internally there are troubled waters and nagging doubts. Something is sapping your energy.
Activities that were once easy are leaving you feeling drained. It is getting more difficult to recognise what your personal desires and needs are to formulate a better way forward in life.
read more
There Must be More…
Freedom from self-doubt and critical thoughts which hold you back from taking the decisive steps to live the life you want to live.
A life full of meaning and purpose, making the choices that benefit you.
Finding answers to your concerns in a safe and supportive space and getting back on track with your career goals.
The freedom to consciously choose your life rather than continuing with what you feel pressured to do.
Most of all, waking up every day loving who you are and what you do.
read more
But something is keeping you stuck
You are committed to providing for your family and feel the pressure to keep going no matter how tired you may be.
You are expected to perform in work with your usual enthusiasm but are starting to worry that your capabilities are slipping.
You are starting to feel unhappy even in your trusted relationships and are baffled as to what the real issue is. Feeling unsupported and misunderstood, no-one seems to have any relevant answers.
Critical thinking has you feeling afraid to voice your concerns and forces you to make even more effort to cope despite developing stress related physical symptoms.
And not only that, you worry that by continuing this way either you will regret not making a change or you will make a 'knee jerk' decision and regret that more.
You want to get into a better place, but making decisions about the way forward is another source of anxiety.
Hello,
I'm Lucy, this was my journey
In 2002, I hit rock bottom, having studied and worked as a staff nurse for 20 years and achieved a Postgraduate Diploma in Cancer Nursing – so many highs and lows.
Looking back, I had symptoms of stress, anxiety, depression and worsening asthma for several years. I moved house, changed jobs and started re-imagining my future. I hadn't realised that I was burnt out and completely exhausted. I was forced to take extended sick leave or I would have been a liability on the ward.
'What is best for me', was my burning question. I started training in holistic therapies, using my medical knowledge and people skills to continue caring and giving, I became healthier and happier but my asthma seemed to be persistent. My medications were still increasing. So frustrating!
10 years flew past, balancing nursing and alternative medicine practice, then a friend introduced me to a holistic breathing practice called Transformational breath®.
After just a few sessions I quickly started to notice signs of progress.
It was a revelation to realise that my thinking was creating stress and tension in my body, and as a result my breathing had become extremely restricted. I had changed my lifestyle and eating habits but hadn't changed my thinking habits.
I had invested thousands on courses, mentors, healers and therapists along the way and what I finally learnt is that it really isn't as complicated as my brain was telling me.
That's why I'm now on a mission to save you so much time and money by sharing the very best of everything I've learnt over my many years of self-discovery.
How to move on from a mindset of uncertainty, stress and overwhelm and into mental clarity, self-assurance and peace without even needing to leave your job or move house, and it may even save your relationship.
read more
Because here's the secret
It's never about the job. It's always our minds and the often unhelpful stories they tell us about our lives… leading to the psychological pressure we experience.
As a holistic Breathwork facilitator and trainer, I can help you unpick those stories through deep inner work and transformational tools, giving you the freedom to live the life you so desperately want to be living and build up your resistance to stress and pressure.
Get started
22,000
The number of breaths a person takes per day
600 m
Lung sacs (alveoli) in our lungs
2,400km
The length of our airways!
12-20
Average number of breaths per minute when resting
Breathing…
in an open, connected, cyclical, flowing breath
brings so many benefits to your whole being
Oxygen for energy and healing restores motivation and wellbeing
Relaxation to release tension, ease pain and support sleep
Self-awareness for inspiration, visualising new ideas and possibilities
Finding peace within to be happy and living in the present moment
Adopting new self-care habits to maintain self-confidence and resilience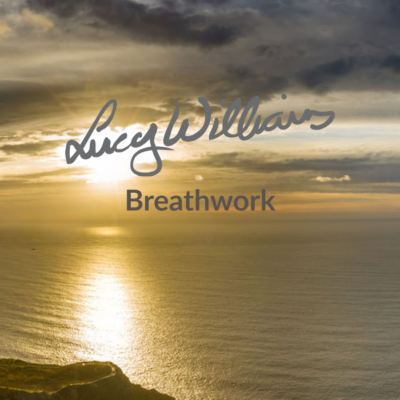 Events In Person News
7pm-9.30pm at Synergy Holistic, 298 Cregagh Rd, Belfast. BT6 9EW Breathing to [...]
READ MORE & Booking
Breathwork Videos and POdcasts
"One breathwork session is equivalent to about two years of psychotherapy."
- Henry Rohrberg, Ph.D
American psychotherapist and breathwork advocate.